The road to sustainable change - a mission-oriented approach
Missions, what is it? How does a mission-oriented approach work and why is it the path to sustainable change? Dan Hill, director of strategic design at Vinnova, explains how real societal change takes place, and why it can only happen when everyone involved is in the loop and working towards the same objective.
It's about involving, pushing together, seeing each other's perspectives.
- And above all about agreeing on strong clear directions towards important common objective which everyone involved participates, Dan Hill explains.
In an interview, he talks about Vinnova's mission-oriented work, about societal change that is taking place right now and about major Swedish and international mission initiatives that are making an impression in people's everyday lives. We also get a sneak peek into Vinnova's handbook "Designing missions" on how societal change takes place in practice.

A super-effective tool to drive societal development towards sustainable goals
Designing missions - a playbook in getting it done, will be launched January 18 during the global event Sweden innovation days. A sneak peek at the manual can be found further down this page. It is a story about two mission-oriented initiatives in food and mobility that Vinnova runs together with the actors concerned. The handbook is also a guide in driving social change.
Mission-oriented right now
Missions as a concept has grown in recent years and right now a number of mission-oriented initiatives are underway on a broad societal basis in both Sweden and internationally. In a closely related EU initiative, for example, the movement New European Bauhaus explores system change with driving participants from several different sectors.
Among other things, we have in Sweden hooked on the New European Bauhaus movement in a societal initiative for the sustainable and inclusive living environments of the future - Visions in the north. Six Swedish Norrland cities, together with five authorities, are driving a societal change on a broad front.
Missions for food and mobility
For two years, Vinnova has run a mission-oriented process around two pilot assignments within the major societal challenges of healthy, sustainable mobility and healthy, sustainable food. This has involved hundreds of stakeholders in various ways.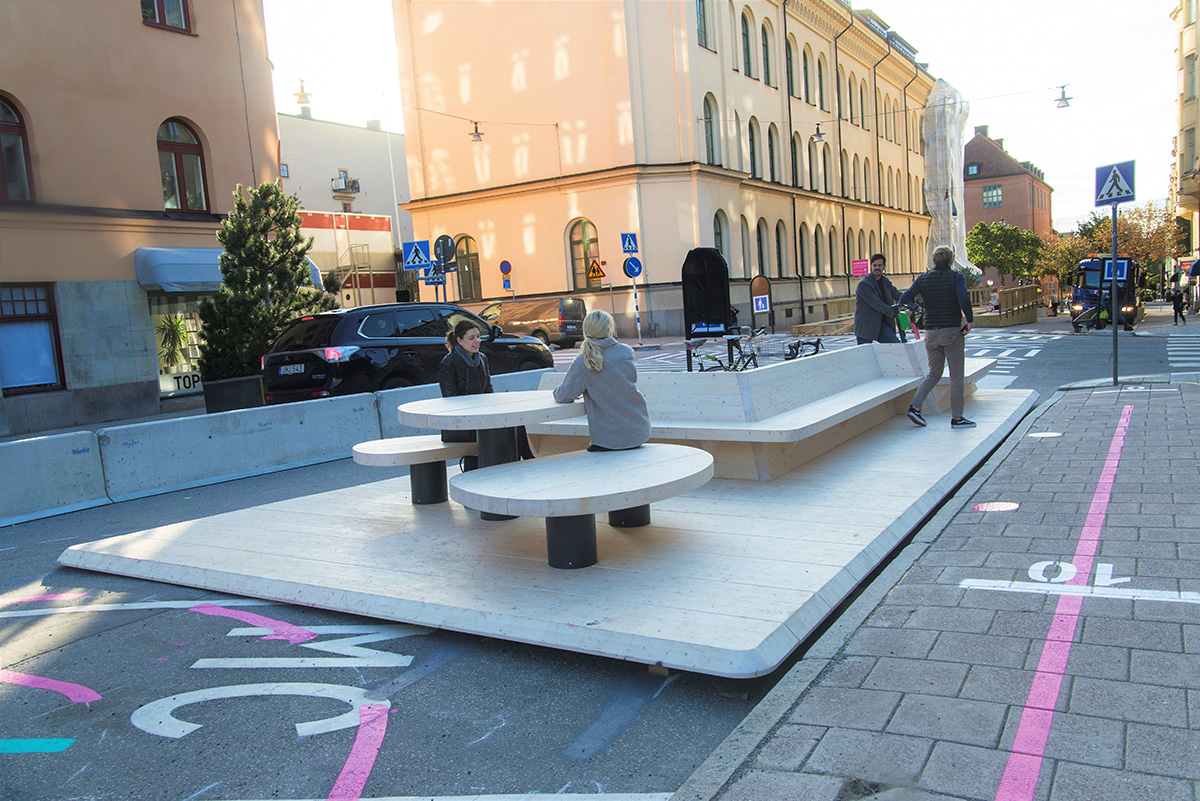 Under the Gatan concept, residents, property owners, shops, authorities, mobility providers and others gather. to jointly design the street environment. Photo: Elsa Soläng/ArkDes/LundbergDesign
In the process, the actors explored how to act in a meaningful and constructive way in everyday systems and environments to fulfill common objective. From this process arose two clear missions - the concept The Street and the School Meal.
Around the Gatan concept, residents, property owners, shops, authorities at various levels, small and large mobility companies (eg Voi and Volvo cars) gather to jointly plan, design and test street and living environments for well-being, safety and health.
In a number of Swedish municipalities, school staff, suppliers, food producers and students work together to improve the quality and experience in the system around the school meal, partly with support from Vinnova.
- When we started the mission work at Vinnova, we consciously chose to start with strategically manageable areas such as food and mobility. Initiatives where a broad commitment from several sectors is required to succeed with a system change, says Dan.
Where thoughts become reality
Another example of mission-oriented societal initiatives is the national initiative Reel for large electric transport vehicles. Vehicles rolling on our roads right now in a so-called system demo - named Reel. It is a nationwide trial in a real environment that not only includes the vehicles but where all parties involved participate and contribute. From vehicle manufacturers and drivers to energy suppliers (including charging stations) and relevant authorities.
Major societal challenges require new approaches. We are not helped by abstract models.
In the initiative "missions for a sustainable industry", business and relevant authorities, including Vinnova, are conducting work across all sector boundaries to achieve climate neutrality in Sweden by 2045.
- And the health sector has also realized how much stronger the impact and development potential will be when they work across sector boundaries globally and nationally, Dan Hill adds.
A winning concept - or the only one?
These initiatives, and more that are ongoing, work on a broad societal basis to test change in entire systems. The experiments are also called system demos and consist of entire systems and flows in people's everyday lives that we have the opportunity to study the effects of and further develop while they are ongoing.
The method is in most cases a mission-oriented approach.
Mission-oriented facilitation on the left and the Innovation Council during a mission workshop with Vinnova on the right.
- A super-effective tool to drive societal development towards sustainable goals, says Dan Hill. The ongoing initiatives are all effects of objectives that are broadly rooted and modeled during workshops at an early stage.
Gathering the "system in the room" with everyone's perspectives is the core and starting point of the mission-oriented approach.
Precisely this "gathering the system in space" - all representatives from different sectors and interest groups - is fundamental and the core of a mission-oriented approach. Of course, there are several rooms on several different occasions in reality, as well as bilateral discussions, digital workshops, interviews and field studies.
The idea is to bring people together, and to work together systemically, across borders and silos. And to test and develop in the meantime.
From above and below - then and now
Interesting to note from the handbook Designing missions are a couple of examples of Swedish missions from the past. Like the 60's million program for housing that everyone could afford to live in. Or the 90's zero vision for traffic, initiated by the Swedish Transport Administration. Both of these had broad societal missions as a driving force - such as that all people should be able to afford to live or that no one should have to be killed in traffic.
Is there already a tradition of working mission-oriented in Sweden?
So what's new?
- In a mission-oriented process, the initiatives must come from both the top and the bottom of the social hierarchy - top town, bottom up. It's basic. And a sense of ambition and courage is needed in the work. The core issue in a mission must be relevant to everyone involved in order to achieve effect in society. And the process must create networks between the actors and get them to work together.
Then change intervenes in a system of actors and flows, and we approach what is called system development. Or system innovation. Missions and mission-oriented approach become an effective tool for achieving system innovation.
Sneak peek at the handbook on social transformation
Designing missions - a playbook in getting it done - will be launched on January 18 during Sweden innovation days when Dan Hill will give a presentation on the working method. The digital version of the handbook will be published here on vinnova.se on the same day.
The handbook describes, among other things, four steps for how sustainable societal change can take place.
1. Awareness-raising - see the needs: Gather as mixed a group as possible with representatives from all angles to find a common perspective. Try to see starting points where several actors meet in flows and contexts.
2. Shape missions - target images based on the patterns and flows you see in the system. Where are the so-called acupuncture points - situations, places and contexts where the actors meet? What opportunities and goals can you agree on based on them?
Create prototypes - models where you can test and demonstrate the system. How can collaborations and functions work better? What can be changed and how can it work better? Decide what you want to start with. Test and redo.
4. Demonstrators (also called system demos) Can you scale up the model? Can your solutions and proposals be translated into large-scale trials? Which actors do you need to involve in the next step?
Whether we deal with poverty, climate change or inequalities in health, we can not solve the problems as individuals. The change must take place at system level. And the initiatives must come from above and below to achieve effect.
The events where you get to know more about mission-oriented societal change